Manju Karkare MS, RDN, LDN, FAND
Treasurer-elect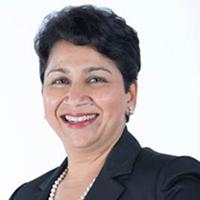 Position / Skills and Attributes
POSITION
Skills/Attributes associated with the position
Examples of how I have demonstrated outcomes for each skill/attribute that qualify me for the position
Treasurer-elect

Experience and familiarity with the role of a board of directors, leadership related to embracing/managing positive change, and policy implementation, promoting a culture of inquiry and communication
Think strategically, globally and futuristically taking into account the needs of the entire membership, including competing factions/trends
Identify opportunities, address difficult issues and generate solutions
Has multi-million dollar budget management experience

Chaired Finance, Governance and Fund Development Committees to conduct board recruitment and development, multi-million dollar budget & endowment investment oversight and guidance as well as fundraising to meet the mission of four community organizations.
Enhanced membership engagement and educated fellow professionals at state, district and MIG level.
Strategic actions to update licensure for all NC Dietetic professionals.
Restructured Diversity Leaders program with Diversity Committee.
Employment History
| | | |
| --- | --- | --- |
| Employer | Title | Years Employed |
| Nutritionally Yours LLC | Owner | 4 |
| Duke University Employee Occupational Health and Wellness | Pathways to Change Leader | 2 |
| Symmes Hospital | Chief Dietitian and Nutrition Support Dietitian | 3 |
Leadership Experience
Leadership Position
Organization
Years Involved in the Organization
My specific leadership contributions, achievements and outcomes:
Treasurer
Raleigh District Dietetic Association
2014 - 2016
Working with the RDDA Board members established the annual budget, helped with the transfer of financial management institution and streamlining the reimbursement process. The new and improved online process has simplified and expedited the reimbursements.
Diversity Committee Member
Academy of Nutrition and Dietetics
2014 - 2016
As a member of the Diversity Committee, reviewed the diversity grants and leaders' applications. Actively engaged in the restructuring of the Diversity Leaders program and creation of Diversity Liaison positions in accordance with the strategic priorities of the Academy.
Reimbursement Representative
North Carolina Dietetic Association
2014 - 2016
Collaborating with the Public Policy Panel members of the NCDA, established a plan of work to update the licensure law in NC including educating the membership about it and generating interest from the members for active participation in the legislative process. Helped educate the members on the impact ACA on our profession as well as required processes for Medicare and Private insurance accreditations.
President-Elect, Board of Directors
Meals on Wheels of Wake County
2014 - 2016
Served on the Program committee to evaluate fresh and frozen meals delivery programs.
Working with the leadership revised and updated the bylaws of the organization and conducted a board and staff retreat to establish the strategic plan.
Chaired the annual fundraising event to successfully raise money to meet the budget.
Finance Committee Member
Cary Academy
2013 - 2016
As a member of the Finance Committee, review and provide oversight of the 8 million dollar budget and over 40 million dollar endowment investments.
Participated in the risk management review and evaluating the RFPs from potential risk managers.
Active engagement in 5 year strategic planning process.
Personal and Campaign Statements
What do you see as opportunities for the future of the food and nutrition profession?
The ever-evolving science of food & nutrition demands we lead in interpreting this information. Practitioners implementing research in nutrigenomics, integrative, alternative therapies and the use of new technologies continue to increase our profession's value and visibility. The foodie millennial generation hungry for the best resources to make their nutrition decisions will continue to challenge us. As "food and nutrition experts" we should be part of the solution to create a healthier world.
Campaign Statement- Write a campaign statement that will encourage people to vote for you
With keen observation and attention to detail, building consensus and asking for input from diverse participants is key to my leadership for successful outcomes. I am empowered by personal values & our profession's mission and vision. Count on me!